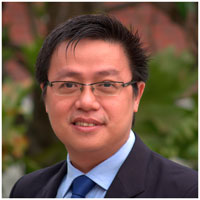 DR. LEE CHEE SIANG
BSc.(Hons) Genetics, MSc.Guidance & Counseling, MSc. Human Resource Development, PhD Holistic Wellness Counseling
REGISTERED COUNSELOR/ COUNSELING SUPERVISOR/ DIRECTOR
BACKGROUND: A Registered Counselor (KB, PA) with more than 15 years of experience. A holistic wellness practitioner in Malaysia for more than 5 years.
EXPERTISE: Holistic Wellness Counseling, Employee Wellness Program (EWP), Employee Assistance Program (EAP), Organizational Consultation, Assessment & Customized Intervention, Critical Incident Stress Management, Psychological Intervention for Adolescents, Adults, Couple & Family, Supervision & Teaching.
CHEE SIANG is one of the founders and a Director of TURNING POINT INTEGRATED WELLNESS SDN BHD. He is a Malaysian Registered and Licensed Counselor (KB, PA), obtaining a double Master Degree in Guidance & Counseling (2000) and Human Resource Development (2004) from Universiti Putra Malaysia (UPM) and PhD in Guidance & Counseling (2010) from Universiti Kebangsaan Malaysia (UKM) in the area of Holistic Wellness. His career in counseling began in 1996 when he became the Counseling Department Head in United Chinese School Committees' Association of Malaysia. Subsequently, he started his counseling practice in Soulcare Personal Wellness and Development Center, Kuala Lumpur. His work ranged from providing counseling to individual, family and specific group, to conducting training and public talks targeting the larger community. Later his work evolved into teaching where he lectured in New Era College and Universiti Kebangsaan Malaysia (UKM) in the various area of counseling e.g. career group supervision, Life Education, Theories and Practicum.
Has two books under his belt. His first book on youth career development was voted as one of the '10 Most Popular Youth Books' by the local press in 2005. His second book is on Life Coping Skills. He is also an active columnist with various Chinese presses like Sin Chew Jit Poh, Nanyang Siang Pau, Oriental Daily, China Press and other magazines. He makes regular appearances on television and radios programs such as INFO FOKUS TV 2, 8TV'S, NTV7, ASTRO, AI FM RADIO PROGRAM, AI FM FILM APPRECIATION PROGRAM, ASTRO MY FM PROGRAM, 988 U-LIFE FAMILY PROGRAM. He hosted a 13 episodes TV Talk Show with TV2 entitled "Young Angel" focusing on teenagers' physical, mental and emotional development.
CHEE SIANG currently focuses on EWP, EAP, consulting, coaching, training, counseling, supervision and teaching. The past few years, CHEE SIANG has worked with a whole range of corporate and public clients in the areas of training, consultation and Employee Assistance Program (Motorola, Freescale Semiconductor, Shell, Panmatex Trading, Precision Control, Pelangi Publishing Group, Selangor & Federal Territory Hainan Association Malaysia, Klang Chinese Chamber Of Commerce & Industry etc.). He is also a Certified Trainer of HRDF (PSMB) of the Ministry of Human Resources.
CHEE SIANG is a member in the following professional societies:
Malaysia Counselor Board (Registered Counselor, KB, PA)
Counseling Association of Malaysia (Life Member)
Advisory Committee of Dept. of Guidance & Counseling Psychology, New Era College
Kuala Lumpur Buddhist Mental Health Association
CHEE SIANG also obtained specialized training in these areas:-
Taylor-Johnson Temperament Analysis (TJTA) Accreditation
Appointed Trainer in Counseling Supervision under National Counselor Board of Malaysia.
Appointed Trainer for Pre-Marital Education Program (PEP) under National Population & Family Development Board of Malaysia
Attachment: Theory and Clinical Implications from Dr Ng Kok Mun (USA)
Family & Marital Therapy (Satir, Bowenian, Structural, Strategic, Solution-focused and Narrative) from Dr Ng Kok Mun (USA)
Cognitive Behaviour Therapy from Dr Ng Kok Mun (USA)
Children's Art Play Therapy from Miss Wu Si Min (Malaysia)
Crisis Intervention & Advance Crisis Intervention from Dr Lai Nien Hwa (Taiwan)
Loss& Grief Counseling from Dr Lai Nien Hwa (Taiwan)
Career Counseling from Dr Shu Ren Jin (Taiwan)
Counseling Case Study Training from Assoc. Prof. Dr. Li-Chuan Wu (Taiwan)
Marital Therapy (John Gottman's Research & Theory, Cultural Consideration, Attachment Theory & Emotionally Focused Couple Therapy) from Dr Ng Kok Mun (USA)
Creative Therapy Training, from Dr Patricia Sherwood, Sophia College (Australia)
Solution Focused Brief Therapy from Dr Ng Kok Mun (USA)
Treating Depressive Disorder & Anxiety Disorder using Cognitive Behavior Therapy from Dr Ng Kok Mun (USA)
Healing Trauma with Somatic and Energy Psychology from Dr. Maggie Phillips (USA)
Treating the Pain of Trauma from Dr. Maggie Phillips (USA)
Group Dynamics Process from Dr. Agnes Chew-Chung Wu (Taiwan)
Professional Excellence with NLP from Anne Munro-Kua (UK)
Counseling Supervision from Malaysia Board of Counselor
Self-Awareness Counseling Supervision Model from Prof. Chin Yen, Chen (Taiwan)
Management of Anxiety & Panic & Phobic Disorder from Assoc. Prof. Dr. Louis Downs (USA)
Mindfulness Based Therapy for Therapists from Dr Tan Eng Kong (Australia)
Narrative Therapy from Dr Ng Kok Mun (USA)
Training Of Trainers for Mental Health Facilitator from Dr J. Scott Hinkle & Dr Donna Henderson (National Board For Certified Counselors International (NBCC-I), USA)
Family Therapy from Dr. Lim Mee Gaik (USA)
Integrated Therapeutic Framework & Mental Health Intervention from Dr Huang Long Jie (Taiwan)
Existential Psychotherapy from Dr Mark Yang (USA)
CHEE SIANG speaks fluent Mandarin, Bahasa Melayu, English and Cantonese dialect. He volunteers actively in various non-profit organizations by giving mental health-related talks and providing training in counseling skills to volunteers. He had travelled to many countries like Thailand, Singapore, Taiwan, China, Hong Kong and Japan.
<< back